THE BOOK THING OF BALTIMORE
TEMPORARILY CLOSED
3001 Vineyard Lane | Baltimore, MD 21218 ||

To put unwanted books into the hands of those who want them.
All books are absolutely FREE. All the books you take have to be stamped, "Not for Resale."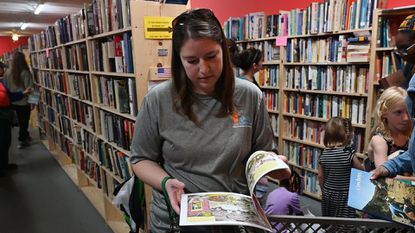 Due to our hibernation, we are not currently accepting book donations. Our after hours donation bin will be closed/unavailable.
Any books or boxes left in the parking lot will result in a citation for illegal dumping.
The Book Thing remains closed, but we're working remotely to keep up the progress despite the pandemic.
Our plans for March public hours and volunteer events are on hold due to the current public health emergency measures.
We're a month into our hibernation, and it's time for some updates.